Testimonials
---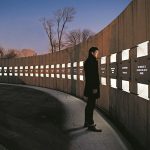 Thanks to the generous support of the Magnus Charitable Trust, the Illinois Holocaust Museum and Education Center now has funding to continue the International Teachers' Summer Institute in Krakow, Poland through 2016.In collaboration with Yad Vashem in Jerusalem, Jagiellonian University in Krakow, and the Auschwitz-Birkenau State Museum, Fifty-seven participants – 45 teachers, 5 Museum staff, and 7 university students – from all over Poland participate in this intensive, week-long training session each summer designed to help teachers and others learn about European Jewry before the war, in the events leading up to and during, as well as after the Holocaust. Through unique guided tours of historic sites in Poland, lectures, discussions, workshops and conversations with Holocaust survivors, participants develop a deeper understanding of what it meant to be a Jew in 20th century Europe and strategies on the best way to teach the Holocaust in their classrooms and Museum settings.
In 2013, Museum field trips reached an all-time high of 50,200 students and educators. Unfortunately, as our numbers grow, so does the demand for scholarship funding from schools in financial need. With funding from the Magnus Charitable Trust, we have expanded our educational outreach to Chicago Public Schools, as well as schools in outlying areas – most of which would not ordinarily have the opportunity to visit cultural institutions due to severe budgetary constraints. A third of all students who visit the Illinois Holocaust Museum & Education Center are from low-income communities. Last year, 133 schools/student groups received Opportunity Scholarships bringing approximately 11,000 students and 1,000 educators to tour the Museum and hear first-hand from Survivors – our best teachers of the history and its lessons and tolerance for today.
"The students came back from the field trip fired up and ready to take a stand against neighborhood violence.  The students at John W. Cook live in a neighborhood where much violence takes place.  From a young age, these students are exposed and desensitized to shooting and other forms of violence.  Providing this group of students with an opportunity to discuss bullying and violence in a safe environment allowed students to examine the impact that they can have on creating change in their own neighborhood.  The students have decided to positively impact their own community by organizing a neighborhood beautification project.  John W. Cook elementary, Chicago (5th grade)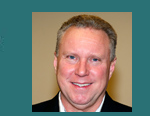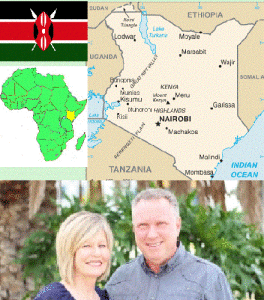 The Kibagare Church and School project in Nairobi, supported in part by the Magnus Charitable Trust, is changing the lives of underprivileged children living in poverty and without family support. Pastor Amos Okolo and his wife Mabo oversee a small school of 40 elementary aged children who are being loved and educated by families connected with the church. Most of the small children are either homeless or the children of prostitutes in the Kibagare slum.
The Magnus Trust has enabled construction to begin on a building which serves as a school on weekdays and also houses Pastor Amos' congregation on Sundays. Following the laying of a concrete foundation, a temporary corrugated metal building will eventually be replaced by a more substantial brick structure.
Pastor Amos and his congregation are most grateful to MCT for making it possible to change the lives of those most at risk in a slum community like Kibagare. Projects of this nature are normally beyond the focus of most overseas aid organisations. The funding and support provided by MCT and the Southern Cross Association of Churches (Perth Australia) are making a difference to the future, not only of Kenya, but all of East Africa.
John McElroy
Senior Minister
Churchlands Fellowship
Perth, Western Australia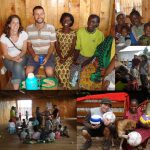 Thank you Magnus Charitable Trust, I have just sent an update to Rebecka and the crew in Australia on your MCT visit. We are all excited about our involvement with Magnus Charitable Trust from Chicago.
Daniel it was such a dream having you here and showing you around our project, everyone loved being able to communicate with you in Kiswahili and you are such a people person, I enjoyed seeing the connections you made with all those you met. You really are welcome back to visit anytime and of course we look forward to the possibility of you returning with Maria Magnus soon.
Of course you had the unique opportunity of driving in our car, including being caught in the rain, stuck in the mud, driving through Unga Ltd at night time, being caught in the middle of a dalla-dalla drag race with many people on the back and not being able to transport a child and mama to hospital safely… so you have some stories to tell Maria about why we need another car!
Thank you for the phone conversation this afternoon from Kenya. It was wonderful to hear from you at MCT and to receive the exciting news of MCT's wonderful contribution to FWS.
The Kesho Leo project continues to grow from strength to strength but this timely support from Maria Magnus who has kindly helped us through her Magnus Charitable Trust and her donation is appreciated enormously. We look forward to updating you on the recent events and also the 2013/14 transition to the next phase of the project.
FWS treasurer, Kerry Renshaw, who is based in the US will be in contact as soon as possible.
Food Water Shelter Inc
32/3 Gallimore Ave | Balmain East | NSW
INC 9884829 | CFN 18740 | ABN 38613794225
c/- Kesho Leo Children's Village
Registered NGO in Tanzania | SO 15634
PO Box 2746 Arusha, Tanzania, East Africa
SUPPORT www.foodwatershelter.org.au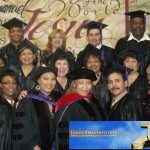 Having faith, building hope and extending charity are the three things that transform ordinary men into vessels of honor worthy of respect from their fellow man. Of these three things the greatest of these things is to extend charity.
Magnus Charitable Trust and Maria and Victoria Magnus have coupled with Logos Christian Center and Bible Institute many times to extend aid and assistance to those who are under-privileged, undereducated, abused, hungry, malnourished and who have been otherwise left behind due to life's situations and circumstances. LBI and LCC will be forever grateful to Maria and Victoria Magnus for the love, kindness and generosity that has been shown to the people of Houston, nationally and internationally.
Following the Hurricane Katrina catastrophe Maria and Victoria immediately went into action raising funds and securing food, clothing and supplies to be shipped to the residents who had become dispossessed, left their city and were no longer able to inhabit their homes in New Orleans. In addition to raising funds and securing desperately needed items Maria and Victoria left their homes and traveled to Houston, Texas to personally assist with the distribution of goods and to offer much needed help so that these individuals could be expeditiously returned to their previous existence before the destruction of property and loss of life caused by the Hurricane.
The Holiday season is a very special time for families especially those with children. However, many families are unable to provide for their children the basic accompaniments that make the holidays special. Each year MCT joins in this effort as we deliver fully cooked special holiday dinners and a supply of food to feed the members of a family for one full week. Also each child is given clothing and age appropriate toys to make their day special.
Food, warm blankets and other necessities are provided for the elderly. This lady who is over 100 years old is brought to the church and gives a testimony.
Other activities include: MCT each year couples with Logos to provide school supplies and tennis shoes to children who are returning to school. Health Screenings for low income families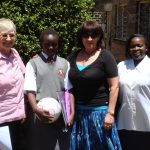 Aid to Education in Kenya (A2E) is a small charity that owes much of its success to grants from the Magnus Charitable Trust, dating from a visit by Mrs Maria Magnus to Kenya some four years ago. During her stay A2E took Mrs Magnus to The Kenya High School for Girls to meet a new girl there who could not afford the school fees and thus whose education hung in the balance. That girl is now studying for a degree in Commerce at one of Kenya's long established universities.
Her story of lack of access to education is not uncommon; most children from poor families cannot take up places in secondary school because parents cannot afford it. Although there is some help from the government towards tuition, not all of it is covered and there is no help with boarding costs – most secondary schools in Kenya are boarding , and this applies to all the tope selective schools that draw pupils from different areas of the country. The problem is particularly acute for the really talented as the fees at top selective schools are very high.
This is where A2E plays a role, selecting from candidates accepted by national schools but unable to raise the fees. A2E plays some small role in addressing the inequalities in Kenyan society
To date A2E through it donors, has sent some twenty young people through school .Of these all but two who finished high school are studying for degrees, from one young man currently enrolling in a PhD programme in microbiology, another in the last year of a law degree, to others , both young men and young women, studying disaster management, law, commerce, finance, economics, communications technology, education, and this last years school leavers applying for forensics and environmental science; a wide and interesting spread!
A2E is extremely proud of all of them, not least for the responsible nice young people that they have become, in control of their own futures and assets to the development of the Kenya. We like to think of ourselves as a family and many of the older ones spend time seeking out, advising and assisting those behind them.
One young man now studying finance at Nairobi university recently wrote saying "Thank you A2E, without you I would be herding goats for my mother" That says it all! And without the Magnus Charitable Trust, A2E's largest donor, none of it would have happened: Thank you MCT!
The school is already operational and opened its doors in January 2008.
Currently is this a school that counts for over 753 students in both Magnus Star Primary and Star high school.
This Magnus Star School came into existence because of our 1st donor Maria Magnus through the Magnus Charitable Trust.
Our goal is to help improve access to education in a learning environment that encourages excellence, is child-friendly and well disciplined.
Star Schools was set up to respond to a national need for high-quality education.
We aim to:
Provide excellent high-quality primary and secondary school education to the Rwandan children especially those in Masaka village and its nearby villages.
Care for the whole child (mind, body, and soul) in a manner and place that reflects God's love.
Be part of the best education that Rwanda can offer its children.
Help build a culture of mutual respect, and instil a respect for the sacredness of life within each child.  Let there be no recurrence of the genocide that has scarred Rwanda, in the future.
Our vision is to create an institution of Excellence in Education for all children in Rwanda especially in Masaka village and its neighbourhoods.
I and all the school staff along with all our wonderful children give blessings and thanks to Maria Magnus for her kind generous and amazing start to our successful school in Masaka village, Rwanda.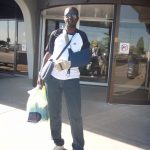 "Maria Magnus is an angel who has been sent to rescue me"
Sometime in 2006, it was that some 12 years since Tutsi Genocide was stopped in July 1994, I met Maria Magnus as she came to visit Kigali, precisely my former work place at Kigali Genocide Memorial Center. Through her journey, Maria learnt that I was wounded as a result of conflicts and mass killing that led to Genocide. That was just the first contact with her. In the same year of 2006, Maria invited me and my former colleague Emanuel to attend the International conference held in Chicago, and we had opportunity to visit Chicago as well. One year later, Dr. Olivia Hines from Logos Christian Center Church together with Maria Magnus of Magnus Charitable Trust provided a help to save my life.
Their generosity assistance ensured that doctors at University of Chicago Hospitals had a chance to carry out the medical procedure necessary to save my arm. I had four surgeries between August 7th, 2007 and December 30th, 2008. I call it a miracle because there were/are many out there who were shot and injured, even worse than me, but they never had a chance for impeccable medical surgeries like I had.
I would like to take this opportunity to thank Maria with Magnus Charitable Trust; It is after all Maria who paid for everything associated with medical expenses including airlines tickets and accommodation, as we know, such a large sum of money that I cannot imagine the total cost & yet she never made a single comment to anyone on all her expenses, nor all her time & effort that she willingly gave me from her heart.
I don't know how I can explain Maria's giving. Many wealthy people give some money & a few give a little help too, not many give both money & help. And I know of very few who give lots of money, lots of hands on help & lots of their personal time. Maria has given all that & opened her own home & family to me
I am truly grateful for any commitment for my cause. It was MCT and Maria's kindness, hospitality. The only wish I have is to continue to pray God to let my life to continue to grow and move in the right direction so that I will too hopefully be able to help others in my own small way as time goes by.
Maria also continues to support me since I permanently moved into United States even if she didn't have anything to do with my move to this country. Maybe she doesn't realize, but she helped me and my wife to settle down. We are still in touch with her, and she always thinks about us whenever there is any event organized by MCT. What can I say? She always welcomes I and my family in her beautiful home whenever we go for short vacation in Chicago.
I can't just have enough words to thank Maria and Magnus Charitable trust for kindness and hospitality towards me. Maria Magnus is just a part of my life.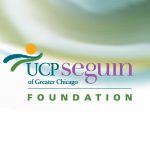 UCP Seguin of Greater Chicago believes in a world where children and adults with disabilities achieve their potential, advance their independence and act as full members of the community. We strive to make this world a reality—in Illinois and beyond, for people at every stage of life—by leveraging technology to provide innovative training and education programs, family support, employment and life-skills training, and residential services.
The Magnus Charitable Trust has been an important partner is this mission for nearly a decade with generous annual donations and support of critical fundraising events. Many of the people with disabilities served by UCP Seguin are also economically disadvantaged. We are one the few organizations serving this population and the financial support of our most stalwart supporters – like the Magnus Charitable Trust – helps ensure we can continue to provide and grow our services to meet the rising demand.
UCP Seguin is profoundly grateful to have the steadfast support of Maria Magnus and the Magnus Charitable Trust in our pursuit of creating a life without limits for people with disabilities.